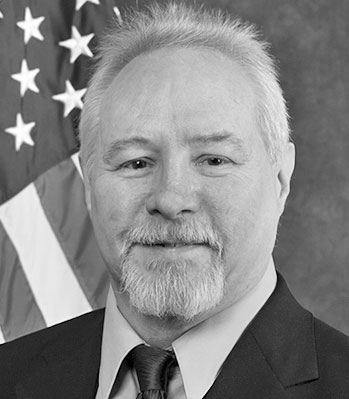 Douglas Deason
Director, Advanced Research
Missile Defense Agency
Dr. Douglas Deason leads the Advanced Research Directorate at the Missile Defense Agency with responsibility for the SBIR/STTR Program and University and international research. In this role he executes the Agency's vision for development of enhanced capabilities for the Ballistic Missile Defense System. During his varied career he has worked for both small and large businesses, consulting firms, a research institution and the Department of Defense.
Dr. Deason began his career in geology and geophysics before transitioning to research in materials science and engineering, receiving an M.S. from the University of Florida (Ceramics Specialty) in 1980 and a Ph.D. from the University of California, Berkeley (Extractive Metallurgy/Ceramics Specialties) in 1987. Between his graduate degrees he worked for Battelle Memorial Institute Columbus Labs on a wide range of materials projects.
Following his doctoral degree he accepted a position with Southwall Technologies, an advanced thin film manufacturer, as Product Manager, Defense Products with full profit and loss authority as well as responsibility for product development and transition to production. During his tenure, he brought the division to significant profitability, increased production yield, and transitioned a new multimillion dollar product to production, solving an extremely challenging problem for the aerospace customer. After relocating to Huntsville, AL, he joined United Technologies Corporation as a Division Chief for Technology Development, Materials and Processes Branch. He later also assumed responsibilities for Laboratory Operations and Corrosion Control groups. He sat on the Strategic Planning Board for New Business and Internal Research & Development. A key accomplishment was his group's development and NASA qualification for an environmentally friendly thermal protection system for the Shuttle solid rocket boosters. The system is still utilized on current unmanned systems. Dr. Deason started his own firm performing materials consulting and development for military and industrial customers.
He joined federal service in 1999 as part of the Advanced Technology Directorate for the U.S. Army Space and Missile Defense Command, eventually becoming its Deputy. He started a materials and manufacturing technology portfolio which at its zenith had over $50M in funding. Dr. Deason joined the Missile Defense Agency in 2006 as the Huntsville Lead for the Manufacturing and Producibility Directorate. In 2009, he assumed the role of SBIR/STTR Director, and in 2011 became the Director, Advanced Research.