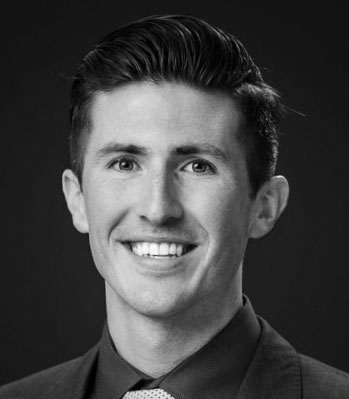 Christopher Cali
CEO
Vital View Technologies
After graduating from ESTEEM in 2015, Christopher Cali moved to Washington D.C to begin his professional career at Booz Allen Hamilton. In his two and a half years with the firm, Chris was promoted and assumed the role of Chief of Staff for two Executive Vice Presidents, assisting in the daily strategy and operations of their independent business units. Although he felt the work and the mission of the company was compelling given its "force for good" nature, he had left the ESTEEM program in 2015 feeling certain he belonged working in and around startups. In particular, he was considering launching a business in South Bend because he saw it as an ideal place to test his business concepts. Expressing these sentiments to friends, mentors, and others in his network, Christopher was informed of the increasing entrepreneurial activity and investment taking place in South Bend, and he began seriously considering opportunities for starting up a business in South Bend.
Shortly thereafter, Christopher learned about how the University of Notre Dame had serendipitously taken action to prioritize entrepreneurship and innovation earlier that year; the University created the Office of Innovation (referred to as "The IDEA Center") and hired strong leadership and talent to drive its newly formed entrepreneurship and innovation agenda forward. In doing so, the IDEA Center opened a position with the sole purpose being to launch startup companies based on technology in its pipeline. This position, known as "Pit-Road CEO", (consistent with the race car theme the IDEA Center adopted) calls for a passionate entrepreneur with a few years of consulting, startup, or technical-related experience to assist in de-risking the business propositions that shake out of the rigorous IDEA Center Commercialization Engine process that systematically vets and adds value to a number of technology-based business concepts in its pipeline. In addition, that person would formally start the company by filing incorporation documents, bringing a board of directors and advisors together, raising capital, and recruiting talent to manage and develop the business. This model was highly attractive to Chris and as he saw it could provide him with a "playground to learn and create," and an invaluable experience of forming and de-risking technology companies across multiple industries while learning from "those who have done it before" in these market and technology domains.
Beyond the inherent attractiveness of the entrepreneurial position and the calling he felt to return to South Bend, Chris saw the passion of the current staff and felt compelled by their commitment to the IDEA Center's mission and values. Since beginning the role in March of 2018, his experience to date has only confirmed his belief in his colleagues' commitment to excellence and to the vision of the IDEA Center, that is to become the best-in-class player in the university innovation and commercialization space while making the world a better place. Chris has been inspired by the massive action his colleagues have taken to ignite a culture of entrepreneurship at Notre Dame and it fuels him to contribute all he can as well.
In the three months he's worked at the IDEA Center, Chris has narrowed his focus from eight different potential business propositions to two: Vital View Technologies™, a smart health company whose capstone technology is a patented non-contact heart and respiratory rate monitor, as well as YeSSGenomics™, a cancer diagnostics company whose first technology is a colon cancer diagnostic test that personalizes treatment plans by identifying the specific subtype of colon cancer and correlates it to a more accurate treatment plan than current standards leading to better patient outcomes and health economics.