Sustainable - Best Practices
Track Sessions

Tuesday June 22

10:30
Designing Sustainable Cities
10:30
Smart Grid: Long Term Opportunities and Challenges
1:30
Smart Grid: IT- Efficiency, Reliability, Security
1:30
Six months since Copenhagen: Global & US Climate Policy Update
1:30
Utility Technology Challenge
2:30
Cleantech Coffee Break
3:00
Policies & Financing for Sustainable Cities
3:00
Water Energy Nexus
3:00
Carbon Capture and Power Generation
3:30
Utility Technology Challenge
4:00
Poster Session and TechConnect Expo (4:00 - 6:00)

Wednesday June 23

8:30
Technology & Finance for Smart Grid: Keynote Panel
10:00
Networking Coffee Break
10:30
Clean Cities Case Studies
1:30
Water Cleantech: Membrane, Purification & Desal
1:30
Sustainable Cities Management & Assessment: Tools, technologies, systems
1:30
Technology Innovations for Efficiency & Emissions Reductions
3:30
Managing Peak Power - renewables, smart grid & demand management
4:00
Poster Session and TechConnect Expo Reception (4:00 - 6:00) - Expo Hall
Sustainable Cities & Communities
6:00
TechConnect Innovation Showcase Reception (6:00 - 8:00) - Ballroom 3rd Floor

Thursday June 24

8:30
Cleantech Keynotes
9:00
Cleantech Keynote Panel: Hottest clean technologies for VCs - who will they fund next?
10:00
TechConnect Innovation Showcase Coffee Break - Ballroom 3rd Floor
10:30
FutureH2O: Drinking/Waste Water Infrastructure
10:30
Creating Infrastructure for EV
10:30
Energy Efficiency and Green Building Case Studies
3:00
TechConnect Ventures: Cleantech Efficiency, Grid & Transportation
1:30
FutureH2O: Water Storage & Supply Infrastructure
5:00
TechConnect Investment Networking Reception - Second Floor

Track Program

Tuesday June 22

Back to Top
10:30
Designing Sustainable Cities
Room 202 B
Session chair: Fred Smoller, Brandman University, US
-
J. Wolch, University of California, Berkeley, US
-
J. Ricks, SDG&E, US
-
D. Klapsis, Studiodnk/USGBC, US
-
G. Goldberg, City of Los Angeles, US
Back to Top
10:30
Smart Grid: Long Term Opportunities and Challenges
Room 204 B
Session chair: Gary Paul, Ernst & Young, US
-
N. Trivedi, Accenture, US
-
G. Paul, Capgemini, US
-
M. Valocchi, IBM Global Business, US
-
K. Devore, Southern California Edison, US
Back to Top
1:30
Smart Grid: IT- Efficiency, Reliability, Security
Room 204 B
Session chair: Steve Rogers, Capgemini, US
-
G. Goodman, Intel Corporation, US
-
C. Bo-Linn, Peritus Partners, Inc, US
-
K. Van Meter, Lockheed Martin Corp., US
-
P. DiMartini, Cisco, US
-
TBD, Hewlett Packard, US
Back to Top
1:30
Six months since Copenhagen: Global & US Climate Policy Update
Room 204 A
Session chair: Lisa Hodes, The Gold Standard, US
-
S. Venkataraman, Standard Bank, UK
-
W. Thomas, Skadden, Arps, Slate, Meagher & Flom LLP, US
-
A. Sarac, EcoSecurities, UK
Back to Top
1:30
Utility Technology Challenge
Room 204 C
Session chair: Patti Glaza, CTSI, US
1:30
PRD Tech, Inc.
R. Govind, PRD Tech, Inc., US
1:45
Parker Hannifin Corporation
D. Thompson, Parker Hannifin Corporation, US
2:00
E3 Greentech Enterprises, Inc.
E. Smith, E3 Greentech Enterprises, Inc., US
2:15
Air Products & Chemicals, Inc.
R. Vero, Air Products & Chemicals, Inc., US
2:30
eMeter
A. Deyonker, eMeter, US
2:45
Rainforest Automation
C. Tumpach, Rainforest Automation, Canada
3:00
Ballard Power Systems, Inc.
K. Kassam, Ballard Power Systems, Inc., Canada
Back to Top
2:30
Cleantech Coffee Break
Foyer 2nd Floor
Back to Top
3:00
Policies & Financing for Sustainable Cities
Room 202 B
Session chair: Gail Golberg, City of Los Angeles, US
-
B. Hooper, City & County of San Francisco, US
-
W. Anderson, City of San Diego, US
-
E. Drummond, Former Mayor of Manitou Springs, CO, US
-
A. Klemm, City of Huntington Beach, US
Back to Top
3:00
Water Energy Nexus
Room 203 AB
Session chair: Mike Hightower, Sandia National Labs, US
-
S. Chaudhry, California Energy Commission, US
-
D. Henderson, XPV Capital, US
-
M. Ambrose, East Bay Municipal Utility District, US
-
R. Dizy, Sempa Power, US
Back to Top
3:00
Carbon Capture and Power Generation
Room 202 A
Session chair: Daniel Laird, Sandia National Lab, US
3:00
State-of-the-Art Clean Coal Power and Technology Options for CO2 Capture
S. Wu, Hitachi Power Systems America, Ltd., US
3:20
Nanostructured Photocatalytic Approach to CO2 Conversion
G. Corti, T. Cantrell, M. Beaux, T. Prakash, D.N. McIlroy, M.G. Norton, GoNano Technologies, US
3:40
Economic and Job Impacts of Increased Efficiency in Existing Coal-Fired Power Plants
R.H. Bezdek, R.M. Wendling, MISI, US
4:00
Development of a New Experimental Tool To Identify CO2 Absorption Parameters in Aqueous Amine Solutions
C. Wylock, S. Dehaeck, E. Boulay, P. Colinet, B. Haut, Université Libre de Bruxelles, BE
Back to Top
3:30
Utility Technology Challenge
Room 204 C
Session chair: Patti Glaza, CTSI, US
3:30
Ener-G-Rotors, Inc.
M. Newell, Ener-G-Rotors, Inc., US
3:45
Enmetric Systems, Inc.
J. Masters, Enmetric Systems, Inc., US
4:00
EchoGen Power Systems, Inc.
M. Persichilli, EchoGen Power Systems, Inc., US
4:15
PVT Solar, Inc.
R. Narayanamurthy, PVT Solar, Inc., US
4:30
Grid Manager A/S
M. Birkelund, Grid Manager A/S, DK
4:45
Prism Solar Technologies
J. Barry, Prism Solar Technologies, US
5:00
Envirock
N. Isreal, Envirock, US
5:15
QM Power
P. Piper, QM Power, US
Back to Top
4:00
Poster Session and TechConnect Expo (4:00 - 6:00)
Expo Hall

Wednesday June 23

Back to Top
8:30
Technology & Finance for Smart Grid: Keynote Panel
Room 204 BC
Session chair: Paul Dickerson, Haynes & Boone, US
-
J. Silva, On-Ramp Wireless, Inc., US
-
M. Breen, Xtreme Power, US
-
D. Wood, Draper Fisher Jurvetson, US
-
M. Montoya, Southern California Edison, US
Back to Top
10:00
Networking Coffee Break
Foyer 2nd Floor
Back to Top
10:30
Clean Cities Case Studies
Room 203 B
Session chair: Jacques Chirazi, Economic Development Coordinator, City of San Diego, US
10:30
CleanTECH Collaboration: San Diego's Solar Success
L. Bicker, Clean Tech San Diego, US
10:55
CleanTech OC: promoting economic growth in the Orange County clean tech industry
M. Pulido and M. Levin, City of Santa Ana /Bryan Caves LLP, US
11:20
The Pecan Street Project
I. Dietrich, Pecan Street Project, Inc., US
11:45
The Über Consumer: Local Government's Role in Stimulating the Clean Tech Economy
L. Pratt, City of San Diego, US
Back to Top
1:30
Water Cleantech: Membrane, Purification & Desal
Room 204 C
Session chair: Shushana Castle, Clinton Climate Initiative/Millennium Water Alliance
1:30
Analysis of Membrane Filtration Efficiency in Removal of Metal Oxide Nanoparticles from Aqueous Nanoparticle Suspension in the Presence of Coagulation Pretreatment
S. Surawanvijit, M. Kim, Y. Cohen, University of California, Los Angeles, US
1:50
New UV Technology for Point-of-Use Water Disinfection
Y. Bilenko, I. Shturm, O. Bilenko, M. Shatalov, R. Gaska, Sensor Electronic Technology, Inc., US
2:10
Functional polymer hydrogels for water purification applications
Y. Liu, State University of New York at Stony Brook, US
2:30
Innovative Cost-effective Pre-treatment for Desalination
M.H. Lean, J. Seo, A. Kole, A.R. Volkel, N. Chang, B. Hsieh, K. Melde, Palo Alto Research Center, US
2:50
Ion Rejection Properties of Nanofiltration Membranes With Inhomogeneous Charge Distribution
A. Szymczyk, H. Zhu, B. Balannec, University of Rennes, FR
3:10
Heterogeneous Photo-Fenton Oxidation on Nanosized Pt/Perovskites as Clean and Efficient Process for Organic Pollutants Removal from Wastewater
D. Sannino, L.A. Isupova, P. Ciambelli, University of Salerno, IT
Back to Top
1:30
Sustainable Cities Management & Assessment: Tools, technologies, systems
Room 202 A
Session chair: Linda Giannelli Pratt, City of San Diego, US
-
S. Parry, City of Santa Monica, US
-
R. Vos, USC Center for Sustainable Cities, US
-
U. Schmidt, City of Pasadena, US
Back to Top
1:30
Technology Innovations for Efficiency & Emissions Reductions
Room 203 B
Session chair: Wayne Gears, CAMG, US
1:30
The Importance of Energy Efficiency
W. Gears, CAMG, US
1:40
Incubating Clean Tech
J. Milanette, PortTech LA, US
2:00
Hybrid Power for Efficiency & Emissions Reductions
D. Kazarinoff, Eaton Corp., US
2:20
Joint Technology Initiative Clean Sky – The European Program Towards Ecologically Compatible Air Transportation
E. Kaulfersch, S. Rzepka, B. Michel, Fraunhofer ENAS, DE
2:40
Crossborder Technologies
T. Millang, Crossborders, SE
3:00
LEHR's Contribution to Improving our Nation's Air Quality
B. Herzer, Lehr Incorporated, US
3:20
Greenhouse Gas Emissions Reporting through Integrated Business Solutions
D. Smith, Village Green Global, Inc., US
Back to Top
3:30
Managing Peak Power - renewables, smart grid & demand management
Room 204 A
Session chair: Greg Trimarche Bryan Cave LLC, US
-
D. Meyers, EnerNOC, US
-
G. Troposa, Ice Energy, US
-
R. Hledik, The Brattle Group, US
-
M. Lane, RTP Controls, US
Back to Top
4:00
Poster Session and TechConnect Expo Reception (4:00 - 6:00) - Expo Hall
Expo Hall
Back to Top
Sustainable Cities & Communities
Expo Hall
-
A Barn Raising in the Creative Core Region: Sustainable Region Case Study
T. Auricchio, K. Sharma, Nectar Partners, US
-
Manifattura: The Making of an Italian Green Technology Park
C. Ratti, G. Salvatori, B. Martin, Manifattura Domani, IT
-
Central New York State (the Creative Core), mapping the geographic and networking activities of a Sustainable Region
T. Auricchio, P. Rankhambe, K. Sharma, Nectar Partners, US
Back to Top
6:00
TechConnect Innovation Showcase Reception (6:00 - 8:00) - Ballroom 3rd Floor
Ballroom BC

Thursday June 24

Back to Top
8:30
Cleantech Keynotes
Ballroom A
Session chair: Patti Glaza, CTSI, US
8:30
Commercialization Programs at ARPA-E
S.J. Wagle, ARPA-E, US
Back to Top
9:00
Cleantech Keynote Panel: Hottest clean technologies for VCs - who will they fund next?
Ballroom A
Session chair: Andrew Heckler, Brightfield Energy, US
-
S. Goldberg, Venrock, US
-
D. Malkani, RockPort Capital Partners, US
-
A. Wong, D.E. Shaw & Co., L.P., US
-
D. Dreesen, Battery Ventures, US
Back to Top
10:00
TechConnect Innovation Showcase Coffee Break - Ballroom 3rd Floor
Ballroom BC
Back to Top
10:30
FutureH2O: Drinking/Waste Water Infrastructure
Room 204 C
Session chair: Angela Adams, Beureau of Reclamation, US
10:30
Optimizing Dual Conjunctive Water Supply and Reuse Systems with Distributed Treatment for High-growth Water-scarce Regions
K. Lansey, University of Arizona, US
10:50
Applications for Sensor Networks in Drinking and Waste Water Treatment
J. Weiss, Dust Networks, US
11:10
Neighborhood/Individual Water Reuse Systems & Practices, as Utilized in Los Angeles and New York
V. Nelson, Coaltion for Alternative Wasteater Treatment, US
11:30
Condition Report on Water Treatment Infrastructure - the ASCE Infrastructure Report Card
D. Jacobson, Jacobson-Satchell Consultants, US
Back to Top
10:30
Creating Infrastructure for EV
Room 204 A
Session chair: Alex Kim, SGD&E, US
-
M. Duval, EPRI, US
-
M. Nicholas, UC Davis, US
-
D. Karner, eTec, US
-
J. Pointon, SGG&E, US
Back to Top
10:30
Energy Efficiency and Green Building Case Studies
Room 207 A
10:30
Efficiency's Last Frontier: Reflective Building Surfaces
H.C. Wiig, State of Hawaii Energy Office, US
10:50
The Clean Energy Landscape- Linking Cyberspace with Real World Impact
A. Wise, National Renewable Energy Laboratory, US
11:10
Study Evidence That Sustainable Design Practices Help Manufacturing Companies Increase Profits and Growth
S. Krasley, Autodesk, Inc., US
Back to Top
3:00
TechConnect Ventures: Cleantech Efficiency, Grid & Transportation
Room 207 C
Session chair: Cheemin Bo-Linn, Peritus Partners, Inc., US
3:00
ThinkEco Inc
M. Shibata, ThinkEco, Inc., US
3:10
EcoThermics Corporation
M. Rocke, EcoThermics Corporation, US
3:20
Ener-G-Rotors, Inc
T. Eveleth, Ener-G-Rotors, Inc., US
3:30
AC Research Lab, Inc
T. Vo, AC Research Lab, Inc., US
3:40
Motiv Power Systems, Inc
J. Castelaz, Motiv Power Systems, Inc., US
3:50
Tour Engine, Inc
O. Tour, Tour Engine, Inc., US
Back to Top
1:30
FutureH2O: Water Storage & Supply Infrastructure
Room 204 C
Session chair: Angela Adams, Beureau of Reclamation, US
1:30
Applying Smart Technology to Water Storage & Supply Infrastructure
P. Williams, IBM, US
1:50
A New Framework for Making Renewal/Rehabilitation Decisions for Aging Water Infrastructure
V. Nelson, Coaltion for Alternative Wastewater Treatment, US
2:10
Using Groundwater Storage Systems in Large-Scale Water Management
C. Cullom, Central Arizona Water Conservation District, US
2:30
Constructed wetlands for management of desalting concentrates
P. Frank, CH2MHILL, US
Back to Top
5:00
TechConnect Investment Networking Reception - Second Floor
Foyer 2nd Floor
Back to Top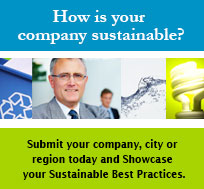 Sustainable Industries 2009 gives your company several opportunities to participate, share and showcase your green, clean and sustainable practices and products. Visit the expo pages here or continue on to find out more about speaking opportunities and the program below. Growing environmental concerns, coupled with public pressure and increasingly stringent regulations are beginning to change the way people do business. Creating sustainable industries — businesses that meet the needs of the present without compromising the ability of future generations to meet their needs is now a necessity.
The Sustainable Industries 2009 conference program addresses these issues with a mix of Best Practices, Case Studies, Policy Development, Training and Educational Programs, and Measurement and Reporting Tools and Techniques. The event provides an opportunity for business managers, government officials and sustainability professionals to discuss the methods for implementing this new orientation and related operating refinements to their existing systems and practices. If you would like to speak at the conference, please use the form below to submit your sessions and topic ideas.
Topic Suggestions/Samples
Showcase your organization & its best practices to the world.
Clean technology discovery & implementation.
Getting your house in Order. Management and staff education and up to speed.
Embedding sustainable industry values into the heart of your organization (customer service, product, operations).
The backlash from "green wash" and public scrutiny--sustainable businesses need to be built on real actions, activities and measurable results.
Are you doing the same things differently, or are you rethinking and really doing different things.
Selling versus building trusting relationships
Building the value of brands using sustainable industry practices.
Sustainability in strategic marketing and planning.
Creating genuine engagements with consumers based on your values.
Who Participates?
Applied Materials
Austin Energy
BASF
Boeing
BP
Chrysler
Chrysler LLC
Conoco Phillips
Eastman Kodak
General Electric
Halliburton
Honda
IBM

Intel
Lockheed Martin
Omron
PG&E
Sempra Utilties
Sharp
Shell
Siemens
Sun Microsystems
Toshiba
Toyota
Whole Foods Market
Xerox
*If interested in organizing a specific business panel or symposium, please contact Regina Ramazzini .